LEGEND TRADING

Payments Infrastructure

Integration guides and documentations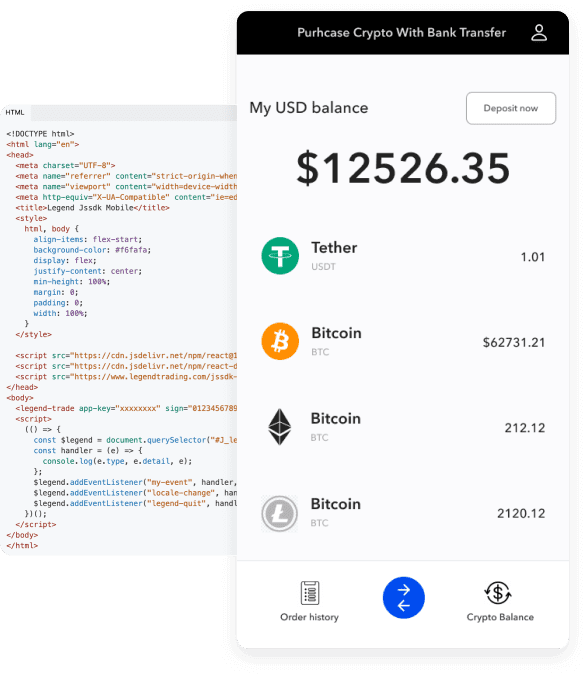 LEGEND TRADING

Payments Infrastructure

Integration guides and documentations
Overview
Build your own Coinbase or OpenSea!
Easy for integration with Web Components
Strong security with OAuth 2.0
Customized themes and configurations
Get Started
Know Your Customer (KYC)

Deposit/Withdraw fiat assets with bank transfers

Buy and sell cryptocurrency

Transfer cryptocurrency assets to and from user wallets for trading purposes

Track user account metrics
How It Works
The integration consists of two parts:
Web Application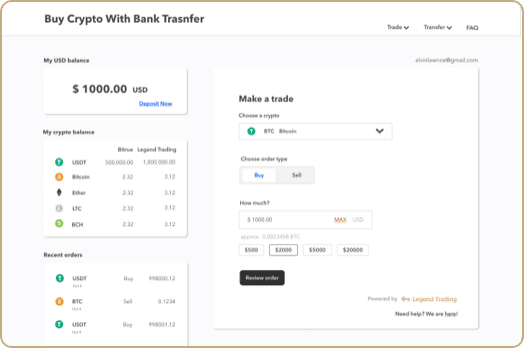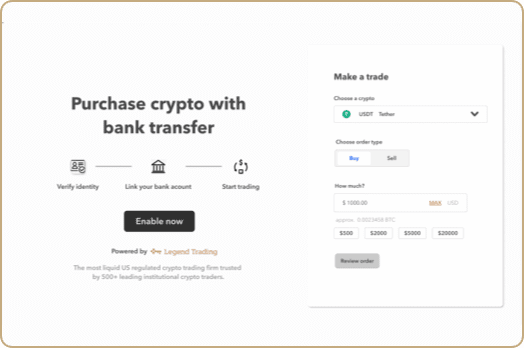 How It Works
Vue is externalized in your website
Vue is inline with Legend SDK.
Web application live demo:
https://legendtrading.com/jssdk-v3/demo-compact.html
Mobile Application
How It Works
Mobile application live demo (visit from a Mobile device):
Sample code (Python)
Authentication
HTTP Header
Sample code (Python)
Error code
| Error code | Description |
| --- | --- |
| 401 | Unauthenticated |
| 404 | Not Found – The specified endpoint could not be found. |
| 405 | The GET method is not supported for this route. Supported methods: POST. |
| 422 | The given data was invalid. |
Purchase Crypto With Bank Transfer
VERIFY IDENTITY
MAKE A BANK TRANSFER
START TRADING
Powered by
Contact Us To Get Full Integration Documents
Let's build the future of finance together.